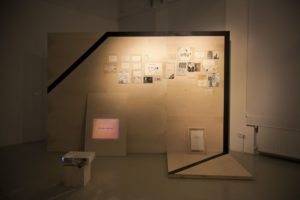 Exhibion: 18th of November 2016 – 12th of March 2017
Artists: Marina Abramović/Ulay, André Cadere, Khaled Hourani, Hannimari Jokinen, Tomasz Kopcewicz, Julia Kurek, Lars Laumann, Andrzej Partum, Józef Robakowski, Dorota Walentynowicz
Curator: Marta Wróblewska
Despite the assumption about the unlimited and general accessibility, public space is often subject to imposed divisions, generating physical and mental borders/limitations concerning the functioning of an individual in the society. However, surprisingly these divisions many a times multiply all kinds of solutions, existences, ideas, either accommodating the situation of an individual into the encountered conditions, or using those conditions to fulfill different goals set by this individual. The selected works present multiple mechanisms of adaptation, utilization and transformation of the imposed divisions by artists who are either inspired, or comment on, or else at times create various systems of divisions / markers of territories, be it political, social or personal.