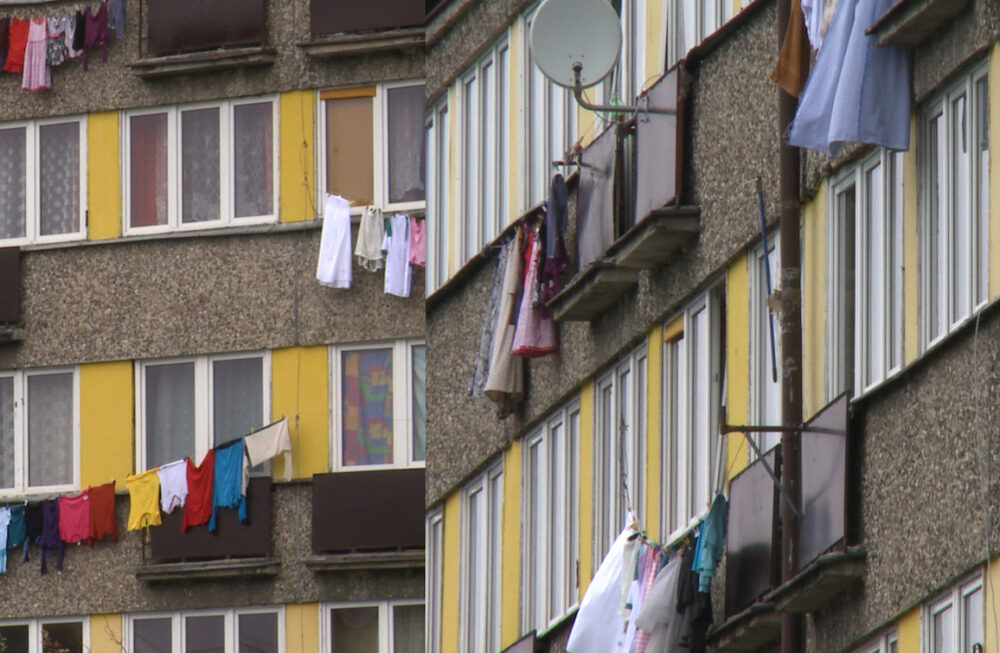 Anna Konik

There Will Not Be Another End of the World
January 29 – March 31, 2016
Works presented at the Monopol Gallery come from the In the same city, under the same sky… cycle the artist involved in between 2011 and 2015. Large-format drawings, complemented with photos and objects supplement the project based on talks with female refugees in Sweden, Poland, Romania, Turkey and France. The Starting point for the drawings were photos found online, documenting contemporary tragedies, such as conflicts in Afghanistan or Syria. Along with records of talks that the artist had with the women, they are a part of the archive of destruction and monstrosities caused by war. The drawings assume the form of maps constructed by means of lines which in a minimalist and abstract way records the shapes of demolished homes, heaps of rubble, streets covered with it. One of them refers directly to the latest 2015 photographic work from Anna Konik called Own Room. This is a kind of a drawing palimpsest created by placing two images against one another: intimate interior of a room and the image of a damaged street, revealing the merger and fragility of these realities.
A large section of the 'In the same city, under the same sky…' project is currently presented within Anna Kornik's individual exhibition called 'Grain of sand in the pupil of the eye. Video installations 2000-2015' at the Warsaw Ujazdowski Castle Centre for Contemporary Art (until Feb 14, 2016). The exhibition at Monopol Gallery is the expansion and complement of some of the threads taken up by the artist in video installations, and at the same time a kind of a private archive.
The title of the exhibition There will not be another end of the world comes from the last two lines of Czesław Milosz's A Song on the End of the World (from the 1944 Salvation volume).
***
As-Salamu Alaykum.
I was born in Damascus. My mother is Arab and my father Kurdish. I grew up in Damascus. I married in Al-Hasakah. I'm now 42 years old; soon I'll be 43. I have eight children. It has been over a year since we came to Istanbul. We suffered a lot in Syria, especially because of the war, but even before the war our situation was difficult. We are also experiencing difficulties in Istanbul.
I'm alone. My husband and my oldest son aren't with me. I'm here together with my seven children. Since a year back, I'm severely ill. My mother, my father and my siblings suffered a lot because of the Al-Assad regime. My 42-year-old brother disappeared… They raided his home; they took his wife and children. They turned his house upside down and they took his cameras, cell phones and laptops. They were looking for him; he was constantly being followed and finally he disappeared. Another one of my siblings was killed… They prohibited us from giving him a funeral. We had to wake up in the middle of the night and bury him in secret. We can't even visit his grave. But he can still be considered lucky because he has a grave. My third younger brother was killed a few months a go, when I had already come to Istanbul. We found out that he was killed through pictures on the Internet. His friends buried him. The situation in Syria is very difficult. People learn to be afraid when they are children. They frighten us with everything, for example with the government. You shouldn't speak out loud. You shouldn't object to anything. No one should face the government. You must hide your views and thoughts to yourself. When we were children, my father was arrested.
I would like to say this to the Turks: first of all, I would like to thank the Turkish women. Despite all, they opened their arms to us. The Prime Minister Recep Tayyip Erdoğan did everything in his power for the Syrians. May Allah bless him! But it would also be good for the Turks to learn about what we have gone through. They shouldn't look down on us. We are sorry that we are crowding
Excerpt from the story of S. from Damascus, aged 42, Istambul, Turkey, 2013–2014.